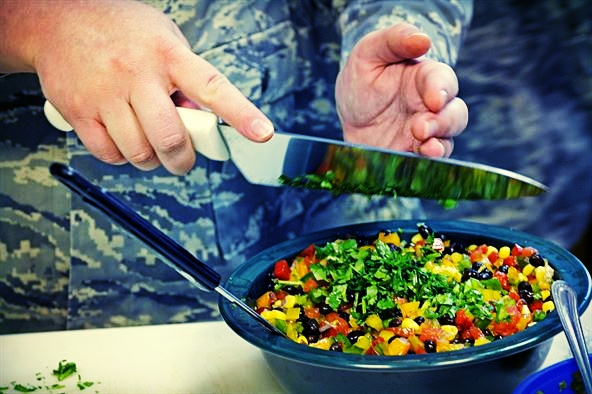 Get ready to wean & lean to a vegan diet. We at The Vegan Warriors believe that eating a healthy vegan diet improves your health, well being, and life. At your own pace, we gradually wean you off meat to a plant based diet. Like the military, we will transform you to a warrior in 8 weeks. So start your journey with us today.
Grocery List

Vegan Meal Plans

Vegan Recipes

Monthly Meetup

Intensive Coaching

Accountability Group

Informative Workbook

Access to Mobile App

Local Grocery Tours
Exclusive Membership

Discounts

Completion Award

30-min Support Phone Call

Weekly Newsletter

Online Virtual Workout Session

Vegan Meal Prep Delivery
Celeste Everett, Founder
Celeste Everett has served her country in the US Army, and she is an Iraq War Veteran. Her passion for technology and innovation lead Celeste to serve as Chief Technology Officer with Tech From Vets. Also, she is a published author of Vegan Lifestyle and Soul Presents: 100 Green Smoothies and Vegan Lifestyle and Soul Presents: 5 Day Green Smoothie Detox. Besides, Celeste is the mother of 3 beautiful children. She, also, volunteers her time as Technologist to All People House of Prayer, Jacksonville, FL. Celeste tutors children and adults in Math, Reading, and Computers. While serving as an instructor, she has helped her students pass Algebra I EOC exam, GED exam, and receive their high school diploma. Moreover, Celeste has a Bachelor of Science degree in Computer Information System. She has one year left in graduate school. Therefore, Celeste will obtain her Masters of Science in Security Assurance at American Intercontinental University. Also, she is a leading innovator at Tech From Vets. She has utilized her education and knowledge to handle complex technological processes. Her leadership skills have not been unnoticed. She is a serial entrepreneur. She serves as Vice President of JCB, INC. Also, she is a vegan and believes veganism will save the planet from issues that plague it. Also, she enjoys influencing others to focus on their well-being. Therefore, she founded Vegan Lifestyle and Soul which is a company that empowers its vegan community to further their vegan journey, receive valuable information, meet new vegans and learns new recipes. Besides, she founded The Vegan Warriors Program that weans and lean you in 8 weeks to a vegan diet. She inspires others to become vegan. She has conducted several online accountability groups. Also, she serves as a Mentor with Vegan Outreach. Also, she contributes to several publications. Celeste Everett has served hired as a Brand Ambassador for Fortune 500 companies such as Shell and AllState. Also, she serves as a Brand Ambassador for Dole, Ziyak, and Sexy Mi Tea. All in all, Celeste is well-rounded, and she loves her family, country, community, and career. Her knowledge and life-long skill of learning will continue her to succeed.
Madeline Flemming, Spokesperson
MadelineKarita Fleming, known to her fans as QueenKongKi. An Award winning, Ivy League-educated, Multi-talented spokesmodel, host, and producer of "Soul Food Vegan " recently launched her brand of insane vegan hot sauce aptly named "Voodoo Spice" to match her feisty personality. As the granddaughter of a restauranteur and bed and breakfast owner, she grew up in the kitchen. Therefore, she knows a little bit about taste and flavor. At the age of 15, she never gave a thought about where her food originated. One day she bit into a burger and all of a sudden it just felt wrong. From that moment, she began her search for soul food that was as good as the food she supported. Then she hit a wall to find pleasing vegan foods. As Madeline stated, "those vegan foods tasted like bland and boiled socks in a sweat sauce, Ewwww." She decided to develop her class on skillshare "SLAP YOUR MAMA SOUL FOOD VEGAN," an online teaching site then developed it into a show and then brought her recipes to her cable television series "SOUL FOOD VEGAN."

LINKS :

CLASS: https://www.skillshare.com/classes/A-DOWN-HOME-SLAP-YOUR-MAMA-4-COURSE-VEGAN-SOULFOOD-DINNER/1261267952/classroom/discussions?via=user-profile&enrolledRedirect=1

Watch the Series here on Youtube" SOUL FOOD VEGAN."
https://www.youtube.com/watch?v=OGBbNifrSuQ&list=PLQw3VrlV6oK99Fb7N_bv9YbtdcwzJ2zHc

► SOCIAL MEDIA ◄
→ Instagram @queenkongki
→ Twitch http://www.twitch.tv/queenkongki
→ Twitter @queenkongki
→ Snapchat @queenkongki
→ Facebook http://www.facebook.com/madelinekarita
→ Tumblr @queenkongki

►Order.Warning it's not for the faint of heart: http://bit.ly/MAMAVSOG